Introduction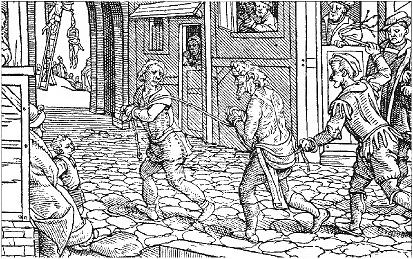 In your imaginary trip round London in lesson 2, one of the scenes you 'saw' was a 'sturdy' beggar being whipped through the streets.
This lesson looks in more detail at what it was like to be poor in the Early Modern Age.
In the sixteenth century many people lived in a state of poverty that we find almost impossible to imagine.
There was no Welfare State or Social Security. People who could not earn enough to support themselves were forced to beg.
In 1598, the government passed a Poor Law. Local churches were told to appoint 'overseers' to look after the poor. The area looked after by each church was called a parish.
• The Impotent Poor (helpless people such as the old and blind) were to be paid a small amount of money by the parish, or given a licence to beg.
• The Poor by Casualty (such as wounded soldiers and sick people) were to be put in the parish workhouse.
• The Idle Poor (or 'sturdy beggars') were to be whipped or hanged.
After you have studied this webpage, answer the question sheet by clicking on the 'Time to Work' icon at the top of the page.
Links:

The following websites will help you research further:
Everyday Life:
• BBC Bitesize - excellent

• BBC audio clip on Rich and Poor in Tudor times (rather silly)