Fall of Hamhung
Nov. 25 - Peng Tehuai starts his long-awaited major offensive by smashing the ROK II Corps in the west and the US 1st Marine Div. in the east. The South Korean troops are out-flanked and out-run. Three S Korean infantry divisions collapse and evaporate in a single night. True to the military tactics of Sun Tzu (500 BC), Chinese bugles, gongs and flair fill the skies over N Korea.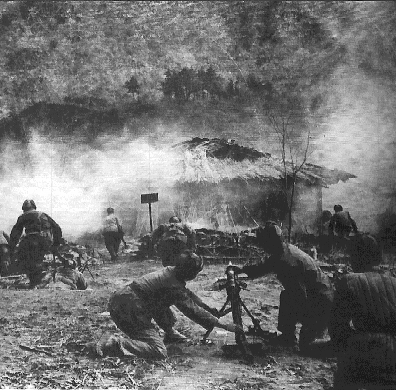 Chinese mortars firing at US 2nd Marine units
Sun Tzu said -
"Let your plans be dark and impenetrable as night, and when you move, fall like a thunderbolt. When you plunder a countryside, let the spoil be divided amongst your men; when you capture new territory, cut it up into allotments for the benefit of your troops. Ponder and deliberate before you make a move. He will conquer who has learnt the artifice of deviation. Such is the art of maneuvering.
The Book of Army Management says: On the field of battle, the spoken word does not carry far enough: hence the institution of gongs and drums. Nor can ordinary objects be seen clearly enough: hence the institution of banners and flags. Gongs and drums, banners and flags, are means whereby the ears and eyes of the host may be focused on one particular point. The host thus forming a single united body, is it impossible either for the brave to advance alone, or for the cowardly to retreat alone. This is the art of handling large masses of men.
In night-fighting, then, make much use of signal-fires and drums, and in fighting by day, of flags and banners, as a means of influencing the ears and eyes of your army. A whole army may be robbed of its spirit; a general may be robbed of his presence of mind.
Now a soldier's spirit is keenest in the morning; by noonday it has begun to flag; and in the evening, his mind is bent only on returning to camp. A clever commander, therefore, avoids an enemy army when its spirit is keen, but attacks it when it is sluggish and inclined to return. This is the art of studying moods.
Disciplined and calm, to await the appearance of disorder and hubbub amongst the enemy:--this is the art of retaining self-possession. To be near the goal while the enemy is still far from it, to wait at ease while the enemy is toiling and struggling, to be well-fed while the enemy is famished:--this is the art of husbanding one's strength. To refrain from intercepting an enemy whose banners are in perfect order, to refrain from attacking an enemy army drawn up in calm and confident array:--this is the art of studying circumstances. It is an axiom not to advance uphill against the enemy, nor to oppose him when he comes downhill. Do not pursue an enemy who simulates flight; do not attack enemy whose temper is keen."
The Americans are unprepared, both mentally and weapon-wise, to fight in the bitter colds of N Korea. The winter is so bitter that many GI's go into shock. Their thought processes are slowed, and any part of the body exposed to the elements, especially nose, ears, hands, and feet, actually hurt from the cold. GI gloves which have fingers are not helpful; only native mittens keep the fingers warm.
Hypothermia is a not well-known to the American medics. Dehydration and lack of proper food enhance loss of body heat, which lead to an insufficient oxygen supply to the brain, which impairs the mind as well as physical functions - and to death. So much energy is spent on providing body heat that even the most simple activities such as walking and just standing become acts of extreme exertion. Yet, failure to move about could result in frostbite; movement causes pain, and to walk any distance on numb feet requires a super-human mental discipline.
Glenn C. Cowart, an American military historian (author of Miracle in Korea), states:
"Hunger, often was not satisfied by field rations. Sweets, because they produced energy, were craved for, and the desire for hot, sweet liquids such as hot chocolate was a constant fantasy.
"Nor were problems confined to the human body. Malfunctioning weapons were the rule rather than the exception, until the troops learned to clean them more often and to forgo the application of oil to the moving parts, a standard procedure in warmer climes. Up in the mountains near Sachang-ni, where it was at least twenty degrees colder than in the lower elevations, some units were dismayed when the sub-freezing temperatures caused the firing tubes of the 4.2" mortars to split. Artillery shells fell short of their targets and radio equipment was effective only over limited distances.
"The movement of tanks and trucks over roads made slick by ice and snow was increasingly dangerous as stalled and overturned vehicles impeded the men and equipment on roads meant for ox-carts.
"The weather also played havoc with tactical air support. All operations were hampered, but carrier based aircraft felt the greatest impact due to the increased hazards of snow, ice, rough seas and surface fog for carrier takeoffs and landings. Missions utilizing land-based aircraft were also curtailed, but Air Force transports and Army light aircraft used in directing artillery fire continued to airlift items such as ammunition, rations, sleeping bags and blankets and, equally important, to evacuate the seriously wounded."
Nov. 26 - MacArthur's Christmas offensive collapses and he at last orders a general retreat - the big bug-out begins in earnest. The Korean People's Army reappears from their mountain bases and cut off all highways leading to S Korea. More than 150,000 UN troops are trapped in the frozen battle fields of N Korea. This comes as a complete surprise to Truman and the US Joint Chiefs of Staff.
Truman panics and threatens to use nukes in N Korea. However, the threat of nukes splits the UN allies who are already nervous about their involvement in the war. Truman realizes that US cannot go alone on the nuke issue and backs off.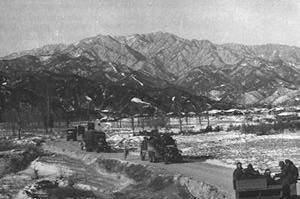 US 2nd Marine units retreating to Hamhung
Nov. 27, 1950 - The worst disaster of the day falls upon a 5,000-men Turkish Brigade. On the previous day (Nov. 26), the Turks attacked a company of S Koreans and inflicted heavy casualties on the "Chinese" at Takchon. The real Chinese ambush the Turks and only a handful manage to escape. Columns of military vehicles - tanks, trucks, jeeps, and self-propelled guns - stretch from the Chungchun River all the way to Seoul. Some half million refugees follow the retreating armies to south. People die of hunger and cold; and frozen bodies are found everywhere.
Nov. 28 - Washington: Truman hears the bad news and goes into a shock. He has been assured as recent as three days ago that MacArthur was about to wind up the war and send the boys home by X-mas. Now, MacArthur wants more US troops. An emergency session of the National Security Council is convened.
Gen. Bradley tells Truman that there is no more troops to send and that he is worried about the 300 Chinese bombers in Manchuria. The supply areas and air force bases of the UN Command are wide open to aerial attacks. The military wants preemptive strikes on the Chinese air fields, but Gen. Marshall advises against a general war with China.
Marshall warns that a war with China will benefit the Soviets and open the continental US for Soviet nuclear and ground attacks. Truman is more worried about the negative impact the defeat would have on his political fortune. Truman loses confidence in the Joint Chiefs of Staff - "a bunch of gutless morons in fancy uniforms". Truman wants all JCS messages to MacArthur cleared by him personally prior to their transmission.
Nov. 29, 1950 - MacArthur renews his effort to bring Chiang Kai Sek into the war. The Joint Chiefs of Staff have no bright idea either. The old general realizes that his "home by Xmas" promise was a stupid mistake and is looking desperately for a way out.
Nov. 30, 1950 - Truman states in public:
"The military commander in the field will have charge of the use of the weapons (A-bombs) as he always has."
Unbelievably, Truman is not aware of the Atomic Energy Act provision which dictates that only the President can authorize use of the atomic bomb. Truman's statement shocks the international community. UN allies are ready to jump the ship.
Nov. 30. 1950 - The US 2nd Division is mauled badly at Sunchon. It retreats south abandoning most of its equipment and some 6,000 casualties. Chinese commandos creep up to an American column and blow up its lead vehicle. The American column comes to a stop and the Chinese open up with machine guns, grenades and mortars.
The Chinese run out of ammo and the survivors clear the wreckage and the column starts moving again until it is stopped by another Chinese commando unit. This 'Stop-and-Go' is repeated until the column is completely wiped out or it reaches a friendly territory.
The US CIA reports: -
"The Russians do not plan on war now but are willing to have it if they can bog us down in Asia...We should get out of Korea now, although we do not solve the problem by getting out. The Russians are sure we don't intend to get into war in Asia, and so feel that they can push us as far as they want. They could bleed us to death in Asia while defeating the rearmament effort in Europe."
Dec. 1, 1950 - Pentagon: Defense Secretary Marshall meets with the Joint Chiefs of Staff to find a solution to the disaster pending in Korea. The consensus is that US cannot win the war and that the best course of action is to negotiate a truce and get out of Korea as soon as possible. The ball is passed to the State Dept. to start a negotiation to end the war.
Dec. 4, 1950 - Gen. Smith, the 1st US Marine Division commander, tells a group of correspondents at Hagaru -
"Retreat? Hell, we're not retreating. We are just advancing in a different direction!"
The US Marine and Navy war planes from the Hamhung airport Yonpo and the carriers Leyte and Philippine Sea exact heavy tolls from the Chinese. US Air Force planes bring in supplies and evacuate more than 4,500 sick and wounded.
Dec. 5, 1950 - Remnants of the US 8th Army (west) evacuate at Chinnampo. US troops have destroyed the city completely. Peng Dehuai is having the best time of his life; he has learned well from Sun Tzu -
"Appear at points which the enemy must hasten to defend; march swiftly to places where you are not expected. An army may march great distances without distress, if it marches through country where the enemy is not. You can be sure of succeeding in your attacks if you only attack places which are undefined. You can ensure the safety of your defense if you only hold positions that cannot be attacked.
Hence that general is skillful in attack whose enemy does not know what to defend; and he is skillful in defense whose enemy does not know what to attack. O divine art of subtlety and secrecy! Through you we learn to be invisible, through you inaudible; and hence we can hold the enemy's fate in our hands."
Dec. 5, 1950 - The 3rd Division, US Army, moves northwest from Hamhung to rescue the 1st Marine Division trapped near Chosin Reservoir.
Dec. 5, 1950 - Pyongyang is liberated by the Chinese forces - the 358th Regiment led by Col. Gu Dehua. Gu finds the city already liberated by Korean guerrillas. Traitors are rounded up and summarily executed. Kim Il Sung wants to move in right away.
Dec. 7, 1950 - The CIA reports:
"The Chinese Communists felt that use of the atom bomb in Korea as tactical support of UN troops would not precipitate war, but use of strategic atom bombing inside of Manchuria was another matter, and in that case, the decision on war would be left to Soviet Russia."
The CIA goes on to state that the Russians have promised China 300,000 Soviet troops plus tactical support in case of war with US. Gen. Collins is sent to Korea on a fact finding mission and he reports that Gen. MacArthur is out of touch with reality - the old man does not know his own battlefield situation.
Dec. 8, 1950 - The evacuation of what remains of the UN forces in the eastern front begins at Wonsan and Hungnam - courtesy of the US Navy. The US 3rd Div., a small detachment of S Korean army and the Student Volunteers Army are given the task of covering the withdrawal - destruction of war materials, refugee control, security, management of political prisoners and so on.
There are rumors going around - the Americans don't want any N Koreans - refugees or the Student Volunteers Army - evacuated. The American Navy does not want anything to do with the Koreans.
Dec. 9, 1950 - MacArthur wants 26 atomic bombs. His plan is to
"drop 30-50 bombs strung across the neck of Manchuria; then introduce half a million Chinese Nationalist troops at the Yalu and spread behind the front lines from the East Sea to the Yellow Sea - a belt of radioactive cobalt which has an active life of between 60 and 120 years." He says that his plan is "a cinch."
Many in US support MacArthur's plan. MacArthur and company also consider chemical weapons. MacArthur is not privy to the awful secret that the Soviets have more nuclear bombs in stock than US does; and that US does not have 26 A-bombs in all of its arsenals.
Dec. 10, 1950 - By now it is evident to me that things are not going well for the UN. MacArthur has let me down. My dream of marching to Kapsan and reclaiming my family's lands and properties is dashed. The citizens of Hamhung are fleeing the city for the second time in four months. Those who have been openly persecuting the communists and their sympathizers are the first to disappear - the fortune of the war plays cruel tricks on the unwary.
We expect nasty street fighting and a complete destruction of the city. The Americans are not prepared for the N Korean winter. The American jeeps, trucks and tanks stall in the cold. Their rifles and artillery pieces freeze and jam. Worst of all, the soldiers are not up to the rigors of fighting in sub-zero conditions. GI combat boots with laces freeze readily and changing sweaty socks require super-human efforts. GI's would rather stay inside a warm tent and become sitting ducks than sit in freezing foxholes.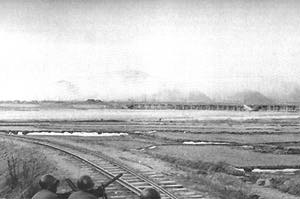 US troops north of Hamhung - Orori is burning in the background
Daily, I witness columns of the beaten army streaming south from the Chosin Reservoir. The 7th Div. is trapped in the desolate slopes of the Jangbaik mountains. We see in the eyes of the survivors the horrors of the war. The soldiers walk in columns like so many zombies, about to drop off and die. No marching songs, no talking and no sounds except the frozen hard snow getting crushed under their heavy combat boots. It is dead cold at -10 degrees F without wind-chill. The winter winds from Siberia push the poor fellows southward, in the right direction - at least, they are getting some help from Mother Nature. The thump-thumps of Chinese mortars are getting closer and closer to our camp. The Americans burn down my country home in Oro-ri.
Dec. 11, 1950 - Pyongyang: A mass rally welcomes a small contingent of the N Korean Army led by Kim Chaik. Kim Il Sung gives a brief speech and officially thanks Peng. Peng traveled from Manchuria to Pyongyang in a brand-new Russian Molotov truck. Kim Il Sung throws a gala party for his guests. Most Russian diplomats and advisers are back in Pyongyang. Peng Dehuai attends the party in frayed and patched-up fatigues while Kim Il Sung wears a white jacket covered with medals and blue pants with broad red stripes.
The 1st US Marine Division retreats to Hamhung.
Dec. 12, 1950 - Peng Dehuai visits the 50th Field Army commanded by Zeng Zesheng, a former Chiang Kai Sek's general. Zeng's troops are mostly former Nationalist soldiers. Peng ask -
"Tell me, Comrade Zeng, how long will it take you to reach Seoul?".
Zeng answers - "One month."
Peng says - "A month is too long. There's is a vacuum down there. We have got to fill it while there is time."
Peng's original plan was to regroup the 13th Army Group to south of the Taedong River while the US X Corps in the east front is eliminated by the 9th Army Group. The 8th US Army has collapsed much earlier and faster than Peng had anticipated and there is huge no-man's area between Pyongyang and Seoul. The table has turned on MacArthur. Kim Il Sung and Mao Zedung want to liberate South Korea.
Peng Dehuai orders his men to invade S Korea.
Dec. 13 - More Chinese POWs are brought to our camp for interrogation. Their story is pitiful. They are always hungry and don't have the physical stamina for long marches or combats. The Korean winter is too much for the Chinese. Weapons freeze and shells do not explode. Their hands are so cold that they are unable to pull grenade safety pins. Mortar tubes shrink so much so that shells won't fit.
There is no easy way to evacuate or treat wounded. They have no radios and all orders are carried manually or bugles. They complain of inept senior commanders - those who are more keen on politics than military tactics. They have squandered many chances to wipe out the Americans.
The Commandant announces that the Student Volunteers Army will be evacuated to S Korea by the S Korean Navy. However many want to stay and fight the communists. Commander 'X' and his guerrillas sneak away. A good many others call it quit and desert us. Our ranks keep on shrinking day by day. We have no hard feelings to those who are deserting us. I am thinking seriously about going home myself.
Things are getting more and more confusing - MacArthur is saying that the retreat is only temporary and that we will be coming back in a month or so. Somehow, his words do not sound sincere. Communist radios report that Truman is planning to bug out of Korea altogether.
Dec. 12, 1950 - The 3rd Army Division retreats to the outskirts of Hamhung and sets up a series of phased defensive lines for the Hamhung-Hungnam beachhead. The outermost line Charlie is centered one mile south of my country home in Orori. The third line Mike is drawn just north of Hamhung and it is the last defensive position for Hamhung.
The 4th line Peter is south of Hamhung (the city is to be abandoned without fight), and the last line Fox is to defend Hungnam. (map: US 3rd Infantry defensive retreat battle plan - phased withdrawal of Gen. Soule. Defense perimeters are code-named Charlie, Mike, Peter, etc.)
It is a mystery why the Chinese are not attacking us in force. They have more than enough troops to finish us off. Some people say that it is because Truman has told Mao to go easy and let the Americans go in peace from Hamhung, or else he will drop the A-bomb. Others say that the Chinese don't have the muscle to encircle and annihilate the Americans. Still others say that all China wants is to kick out the Americans.
Kim Il Sung himself commands a new N Korean Army Corps and guerrillas in the Hamhung Battle. The Chinese forces (the 9th Army Group) are commanded by 43-year old Song Shi-lun. Gen. Song graduated from Whampoa Military Academy and participated in the Long March. Ironically, his American opponent Gen. Soule studied in Peking in 1920's and is the only American general versed in Chinese war tactics. Song has faced the US 1st Marine, 7th and 3rd Infantry Divisions.
Song's initial attacks on the 1st Marine and the 7th Infantry were successful; but his continued attacks on the entrenched American positions cost him dearly in human lives and lost opportunities. Song should have bypassed the 1st Marine and moved south towards the sea; and cut the US supply lines from Hungnam, Yongpo and Wonsan.
Gen. Song succeeds in expelling the Americans from N Korea, but fails to annihilate the Americans. In the process, some 40,000 Chinese have died and many thousands more are out of action with frostbite and wounds. Gen. Song accepts full responsibility and offers to resign. Gen. Zhang Renchu, commander of the attack troops, attempts to kill himself. Kim Il Sung judges Song to be a timid and ineffectual commander. Song and the 9th Army Group are rotated back to China upon completion of the Hamhung Battle.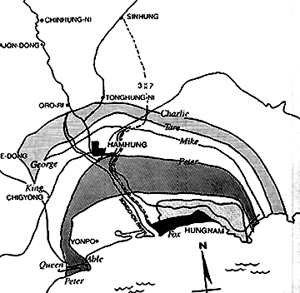 US defensive lines around Hungnam
Peng Dehuai does not blame Song or his officers; instead, he blames Mao Zedong for the failure of his troops. Peng flies to Beijing for a showdown with Mao. Peng informs Mao that unless Stalin got off his ass and made good on his promised assistance, the Chinese Army has some surprises coming. Peng wants to know why the Chinese Air Force, equipped with fancy Russian MIG's, is not doing its share of fighting - American war ships and supply trains are sitting ducks waiting to be bombed.
What a hell are these planes for? And, lastly, Peng takes the blame for the astronomical casualties and offers to resign. Mao Zedung knows Peng too well and calms him down. New Chinese armies equipped with Soviet arms are ready to replace Peng's old armies. Heavy artillery, tanks, modern communications gear, trucks, and air support are on the way. Peng is satisfied and returns to his headquarters in Shenyang.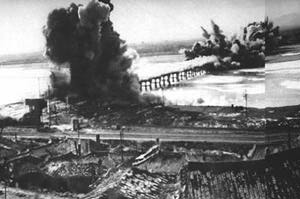 Mang-se-gyo being destroyed by the retreating US troops.
Dec. 15, 1950 - Line Charlie (near my country home in Orori) falls to Chinese and within few hours, Line Tare falls; the communists are breathing down on Hamhung. N Korean soldiers in American and S Korean uniforms appear in Hamhung. The main body of the US troops evacuates Hamhung and moves to Hungnam. The section of Hamhung south of the Sunchung River is abandoned and the Sunchung River bridge (Mang-se-gyo) is blown up. The bridge is about one mile from my home.
I have spent many happy hours under the bridge swimming and fishing. The bridge has been destroyed and repaired many times during the war. In August 1950, several formations of B29 bombers attempted to destroy it but failed. Then, one day a lone B29 appeared and destroyed one section of the bridge with a single bomb. However, the communists repaired it within a few hours. The main traffic across the Sungchun River was via a secret shallow fording a few miles north of the bridge.
Dec. 16, 1950 - Hamhung: Out of the original 600 members, the Student Volunteers Army (Hamhung Unit) is down to less than 100. We are ordered to pack up and march to a collection point where S Korean army trucks are waiting. The city is under American control and the Americans don't want the S Koreans evacuating us - that is the reason why the trucks cannot pick us up at our camp.
Besides, the streets are clogged with panicky refugees heading towards Hungnam. I carry a 50 pound bag of rice - which is more than any load I have ever carried in my life. The only other items I have are in my pockets. That's the total sum of my earthly possessions when I left home for the last time.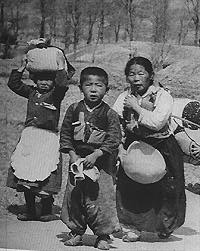 N Korean refugees heading south
We push our way through throngs of refugees. Some of the refugees spot their kin in our column and shout: Are you leaving? Where is your brother? And so on. This is how I saw my mother and sister for the last time. Later on, I have learned that my mother was helping an elderly neighbor and fallen back due to frequent rest stops. Some time during the day, the US commander forced the S Korean troops to stop the flow and turn back the refugees. Unfortunately, or perhaps, fortunately, my mother and sister were among those who were turned back.
Checkpoints are set up at every corner to arrest enemy agents and guerrillas trying to infiltrate. They are disguised as refugees, S Korean soldiers or KATUSA's. We (Student Volunteers Army) are assigned to do the screening in Hamhung and Hungnam. We arrest more than 120 communists - our former classmates and neighbors. Their orders are to blow up ammunition dumps at Hungnam evacuation points.
Late in the evening, Line Mike, the last defense of Hamhung, falls.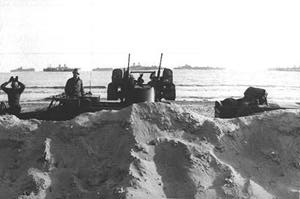 Rear-guards of the Big Bugout at Hungnam
Dec. 17, 1950 - We reach Hungnam. S Korean soldiers are going door to door ordering all civilians to rush to the port. They are demolishing houses block by block. Factories are dynamited first by sappers and then shelled by US warships.
In the midst of all these, our small band of the Student Volunteers Army and US Army engineers sits and waits for our evacuation ships to arrive. More deserters leave us. Some 300 refugees from Hungnam are waiting for the same ship.
N Korean guerrillas in American uniforms (pretending to be KATUSA's) attack rear guard units in and around Hungnam. Things are chaotic. Fires and explosions all around us; US Navy shells whistle overhead; and US war planes fill the sky over us. People scream and children cry; and the thump-thumps of Chinese mortars get closer and closer.
Dec. 18, 1950 - Peng Dehuai is furious at the slow pace of his generals comfortably housed on the Kim Il Sung University campus. Little has been done about invading S Korea. Peng sees the window of opportunity slipping by and threatens to fire any commander not doing his best to speed up the invasion preparation. To his disgust, Peng finds that some generals have been waiting for the Soviet tanks and artillery en route to Korea via the Trans-Siberian railways. Peng doesn't care about the X Corps - it will be gone sooner or later on its own accord.
Dec. 18, 1950 - Peng issues the Third Campaign battle orders. The 260,000 men of the 13th Army Group are on the march again to wipe out the US 8th Army once for all. Mao Zedung is happy and so is Kim Il Sung. But Peng has serious reservations. He sees no problem in capturing Seoul, but going beyond Seoul will play into the enemy's game plan.
His surprise attacks on the 8th Army has yielded huge war supplies which eased his supply problems; but from this point on, there will not be surprises and the enemy will be fighting from well defended positions. The Rear Services Department has 180,000 coolies to move war materiel. Chinese railroad engineers are being brought from China to repair N Korean railways. In addition, some 6,000 trucks are in Korea.
The 13th Army Group needs 1,000 tons of supply each day. Each Chinese soldier needs 10 pounds of food and ammunition a day. By comparison, an American GI needs 60 pounds of supplies (food, cigarettes, beverages, clothing, ammunitions, mail, etc.) a day. N Koreans share one bitter lesson they have learned in S Korea - tanks are not worth the trouble of supplying and maintaining them.
Heavy snow and freezing rain impede the 13th Army Group. The soldiers loaded down with 10-days of ration cannot move far in the blinding snow storms. There is not much Peng can do about the bad weather.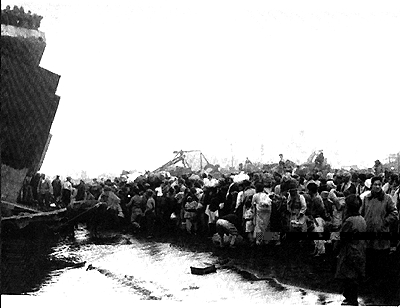 N Korean refugees getting aboard a S Korean Navy LST at Hungnam
Dec. 19, 1950 - The US Army abandons Yonpo - the air base near Hamhung and all positions southwest of the Sungchun River.
Dec. 21, 1950 - Kim Il Sung convenes the third plenum of the Worker's Party Central Committee at Kanggye. Kim accuses his trusted aids of incompetence and laxity in party discipline; blames everyone except himself for his defeat - Kim Il, Mu Chong, Choe Kwang and other generals are specifically condemned and expelled from the Party. Gen. Mu Chong, the ranking Korean in the Chinese Army, is relieved of his command of the 2nd Corps.
Kim Il Sung accuses Gen. Mu Chong of (1) illegally executing soldiers retreating from South and (2) not obeying Kim's order to defend Pyongyang to death. Gen. Mu rebuffed Kim's order and took his forces to Mukden (China) for regrouping. His forces would have been wiped out, had he obeyed Kim's order to stay put. Mu Chong is stripped of his rank and put in charge of a prison, and later in charge of construction gang. He was eventually turned over to the Chinese but died of an illness, a sad broken man.
Gen. Mu Chong went to China in 1920 and graduated from Henan Military Academy. Mu was commander of artillery of the 8th Route Army and participated in the Long March. He was active in Kim Tu Bong's Korean Independence League. He was the ranking Korean in Mao's Red Army. In Yenan (=Yanan), Mu formed the Korean Volunteers Army and trained Korean officers. Mu and his officers returned to N Korea in 1945.
Kim Il Sung says that the war has separated the loyal from the disloyal Party members and that proper measures will be taken to punish the disloyal irrespective of their position. Kim instructs the Inspection Committee headed by Ho Kai I, the ranking Soviet-Korean, to purge the Party. Ho is to purge 450,000 of the 600,000 Party members. (One year later, Kim purges Ho himself for Ho's excessive purging of the Party members.)
Dec. 22, 1950 - Hungnam: All US troops except some 9,000 men of the 3rd Division have left N Korea. The Student Volunteers Army and a battalion of ROK special forces remain in Hungnam. Our perimeter is only 12 square miles outside of which are hordes of Chinese and N Korean troops.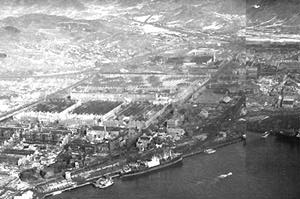 Hungnam Harbor - the Big Bugout
Dec. 23, 1950 - The commander of the US 8th Army, Gen. Walker, is killed by N Korean partisans. Walker's jeep is hit by anti-tank rocket fired from a hilltop and crashes into a S Korean Army troop carrier. This is a revenge for the commander of the N Korean Army (South), Gen. Kim Chaik, who was killed in an American bomb raid. Kim was with Kim Il Sung's Revolutionary Army from its inception. His death was mainly responsible for the half-ass performance of the N Korean troops in the Pusan perimeter. MacArthur's army is crumbling fast. The communists are on the offensive.
Peng Dehuai has learned well from his old master Sun Tzu -
"If we do not wish to fight, we can prevent the enemy from engaging us even though the lines of our encampment be merely traced out on the ground. All we need do is to throw something odd and unaccountable in his way. By discovering the enemy's dispositions and remaining invisible ourselves, we can keep our forces concentrated, while the enemy's must be divided.
We can form a single united body, while the enemy must split up into fractions. Hence there will be a whole pitted against separate parts of a whole, which means that we shall be many to the enemy's few. And if we are able thus to attack an inferior force with a superior one, our enemy will be in dire straits.
"The spot where we intend to fight must not be made known; for then the enemy will have to prepare against a possible attack at several different points; and his forces being thus distributed in many directions, the numbers we shall have to face at any given point will be proportionately few.
For should the enemy strengthen his van, he will weaken his rear; should he strengthen his rear, he will weaken his van; should he strengthen his left, he will weaken his right; should he strengthen his right, he will weaken his left. If he sends reinforcements everywhere, he will everywhere be weak."
Dec. 24, 1950 - The much awaited S Korean LST (Landing Ship Tank) arrives. The Student Volunteers Army units and S Korean army engineers are the last to be evacuated. We board the S Korean Navy ship, Dong Hae (the East Sea).
A S Korean Navy LST at Hungnam
Dong Hae is already loaded down with some 600 refugees and several S Korean demolition units with dozers and one captured tank. We are given the job of policing the refugees - mostly residents of Hungnam who are forced to leave.
US and S Korean engineers are blowing up the whole city. US navy guns are hitting the town point-blank in order to cover our retreat Volley after volley of heavy guns go over our head. The shells are so close to us that we can smell the gun lubrication oil. In the distance, US Navy fighters are firing rockets at the Chinese troops on the surrounding mountains. There are only five US Navy warships left in the harbor.
Finally, the ship is loaded. The captain gives the order to move out. The heavily loaded ship groans and shakes - but nothing happens! Our ship is over-loaded and the props are stuck in the mud! The captain tries to rock the ship back and forth to get free - but it makes things worse, the prop shaft gets bent Panic spreads through out the ship.
There are talks of transferring officers to an American warship and leaving the rest behind. The captain orders everyone off his ship. He figures that might help free his ship. The ship will not budge. We are sitting ducks for Chinese mortars - but none comes in our way. More of our comrades and refugees walk away - none of us tries to stop them.
Gen. Almond, commander of the X Corps, gets off his command post aboard the USS Mount MacKinley and pins the Distinguished Service Cross on Gen. Soule's chest (commander of the 3rd Infantry Division.) on the beach of Hungnam.
The USS Missouri and a number of destroyers bombard Hungnam at point-blank to cover the evacuation of the rear guards.
The 15th Regiment is the last to evacuate at 1:30 P.M. The US Navy underwater demolition teams dynamite buildings, wharves, and trains. The demolition is finished at 2:40 P.M. and the last of the US personnel is off the beach.
Dec. 24, 1950 - US Navy frogmen are called in. They blow-torch off the bent shaft and free the ship. The American Navy decides to tow our ship to the S Korean port of Samchok where we will be transferred to another LST.
We board our ship again. At last we leave the burning city behind. For most us, this is the last glimpse of N Korea. It is the Christmas Eve of 1950. The refugees remain on the deck. The wind mixed with sea water hits your face like a sand blaster. Everything is frozen.
The S Korean seamen feed the refugees - the very first meal as the citizens of the Republic of Korea. The meal consists of a rice ball about the size of a softball and a can of salted shrills (tiny shrimps). The feeding process goes well. However, the problem of sanitation is an entirely different matter. The seamen were not quite prepared for this.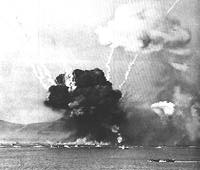 Hungnam being destroyed by the US Navy.
Dec. 25, 1950 - Our ship is towed to Samchok and the US Navy vessel leaves. The S Korean troops are transferred to a ship waiting for them at the port. They are urgently needed in the front. We (what remains of the SVA ) and the refugees land.
A welcoming party of the local residents greets us. The residents are mostly poor farmers and have been through a hell of their own. The S Korean Navy does not have a replacement ship for Tong Hae and orders the captain to fix the ship. It takes three days to repair the shaft. Meanwhile, we are split into groups of 5 and stay with local families - the police makes sure that the poor residents cooperate.
Dec. 26 - Washington: Truman holds a war council and drafts a "final" directive on how to wind down the war to Gen. MacArthur.
"We believe that Korea is not the place to fight a major war. Further, we believe that we should not commit our remaining available ground forces to action against Chinese Communists forces in Korea in face of the increased threat of general war. However, a successful resistance to Chinese-North Korean aggression at some position in Korea and a deflation of the military and political prestige of the Chinese Communists would be of great importance to our national interests, if this could be accomplished without incurring serious losses..... You are now directed to defend in successive positions, inflicting such damage to hostile forces in Korea as possible,,."
Dec. 28, 1950 - The Dong Hae is ready to go, but first she must take care of a minor matter: there are 20 communists civilian prisoners aboard. The captain is ordered to take his ship out to the open sea and throw them overboard. This also allows the captain to check out the seaworthiness of his ship. We board the ship for the last time and head to the island of Koje. The UN command has designated this wretched island in the Strait of Korea as the main holding area of refugees.
The US Joint Chiefs of Staff draw up a plan to quit Korea. The plan includes evacuating a quarter million Koreans to a Pacific island - a Korean Formosa - and puts an end to the Korean War.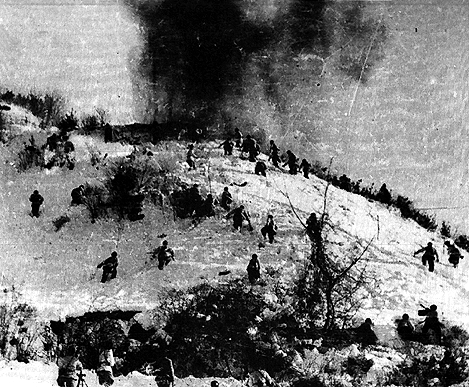 Chinese infantry("human waves") mopping up US Marine 2nd Division units at Chosin
Dec. 29, 1950 - Chinhung-ri, near Hamhung: The Chinese 9th Army Group headquarters unit occupies a school building. A partially damaged church is made into a field hospital. A column of trucks transport wounded soldiers to a railway station for the long journey to China.
Chen Yi, former commander of the field armies making up the 9th arrives on a fact-finding mission. Mao Zedong wants to know why the 9th has performed so miserably. Yi meets with the front field army commanders - Zhang of the 26th and Nieh Fengche of the 27th.
Yi concludes that the failure was due to: (1) bad weather - the Chinese armies were not properly clothed for the extreme cold and tens of thousands froze to death; (2) inadequate supply - soldiers ran out of ammunition and grenades at critical points and had to break off; (3) lack of air cover resulted in unnecessary delays and deaths; (4) lack of artillery - the troops had to rely on small arms, grenades and satchel charges which often failed to explode.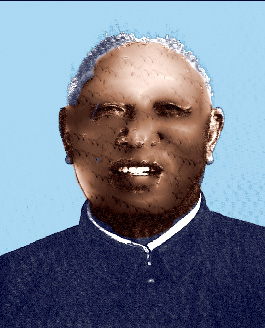 Gen. Song Shi Lun, commander of the 9th Army Group, Hamhung Battle
The 3rd Corps of the Korean People's Army is headquartered in my home-town, Hamhung - a ruined city. Almost all buildings have been demolished by the retreating Americans. Land mines and unexploded bombs are everywhere - another parting gifts left by MacArthur. Surviving citizens wait in line for bits of food being doled out by young communists. N Korean soldiers, cadres and ordinary folks are combing through their old neighborhood looking for their loved ones.