3 Chaucer's Canterbury Pilgrims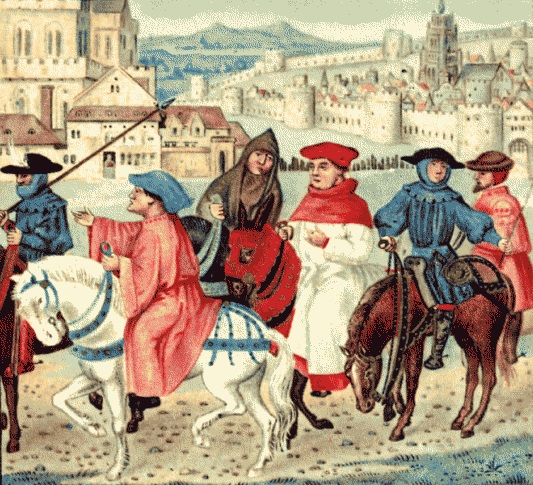 Many English people went to the shrine of St Thomas à Becket at Canterbury in Kent. They often travelled in groups, for company and safety.
Chaucer's famous Canterbury Tales (c.1387) was based around the idea of such a group of pilgrims travelling to Canterbury, and telling tales to entertain each other along the way, as Chaucer explains in his prologue:
"Befell that, in that season, on a day
In Southwark, at The Tabard, as I lay
Ready to start upon my pilgrimage
To Canterbury, full of devout homage,
There came at nightfall to that hostelry
Some nine and twenty in a company
Of sundry persons who had chanced to fall
In fellowship, and pilgrims were they all."

In fact, most of Chaucer's pilgrims were very ungodly, and the Canterbury Tales was more 'Big Brother' than 'Songs of Praise'.