Roosevelt persuaded Congress to give him emergency powers from 9 March to 16 June 1933 (the 'Hundred Days'). Although many of Roosevelt's ideas were not new (some just copied Hoover's), 1933 - especially the 100 days - saw a burst of legislation to tackle the Depression like never before.
1. Confidence:
Roosevelt undertook a series of measures to keep the American people on his side.
a. Abolished Prohibition
- He said: 'I think this would be a good time for a beer". This restored faith in the government because it stopped the humiliation of the government's laws being openly ignored.
- (It also increased the government's revenues.)
b. Fireside Chats
- FDR made sure that everyone who sent him a letter got a reply (he got up to 8,000 letters a day), and that everyone who telephoned the White House was never cut off.
- FDR described his policies in radio broadcasts called 'fireside chats'.
c. Bank holiday
- The Emergency Banking Act closed the banks for four days. The government checked that all were financially sound, and when they reopened, they reopened with the backing of the Federal Reserve.
- This restored confidence in the banks, and people deposited their money there again.
d. Stock Exchange
- The Securities and Exchange Commission introduced rules for the Stock Exchange to prevent another Crash like 1929.
2. Finance and Economy:
Roosevelt believed that he had to make sure that the economy was 'sound'.
a. Budget
- He did not run deficit budgets (i.e. it did not spend more than it gathered in taxes).
- He CUT the pay of government employees by 15%.
(These measures actually made the depression worse.)
- The government borrowed huge amounts of money to finance the New Deal, but it spent it on projects that were planned to pay back eventually.
b. Bankruptcies
- The Farm Loan Act and the Bankruptcy Act prevented banks from foreclosing on solvent businesses until they had had a chance to borrow from the Federal Reserve.
- The Home Loan Act and the Home Owners Loan Corporation did the same for ordinary home owners.
c. Prices and Wages
- The Agricultural Adjustment Act (AAA) paid farmers to take fields out of production; the idea of this was to stop over-production and to drive up prices.
- The NRA (National Recovery Administration) was set up, where businessmen joined a 'Roll of Honour' (and were allowed to show a blue eagle symbol) where they promised to cut production and pay good wages – 2.5 million firms, employing 22 million people, joined the scheme.
- FDR also abolished Child Labour – this put more adults into work.
d. Currency
You will read in some books that FDR abolished the gold standard (linking the value of the dollar to a certain weight of gold). This is not true. He did:
- stop people owning gold (they had to deposit it in banks)
- make the banks give all the gold to the government
- increase the price of gold from $20 to £35 an ounce.
This stopped people hoarding/saving their money, and increased the amount of government reserves. Since the dollar was still linked to gold, moreover, many foreign investors bought American dollars for gold, which increased the amount of government reserves.
3. Alphabet Agencies:
FDR set up what came to be called the 'alphabet agencies' because their names were reduced to acronyms. The main ones were:
a. CCC (Civilian Conservation Corps):
provided paid conservation work to give unemployed young men jobs – by 1941, 2.5 million had taken part PLUS millions of trees panted/ parks and forest areas developed
b. FERA (Federal Emergency Relief Administration): provided matched funding to help states organise payments to the unemployed and homeless.
c. WPA (Works Progress Administration):
ran projects which provided work for the unemployed, e.g. building airports, schools, hospitals or bridges – millions earned a small wage and felt valuable.
d. TVA (Tennessee Valley Authority):
built 21 dams in ten years – stopped flooding, provided cheap electricity and provided work.
The Fireside Chats
(NB they are worth reading or listening to – they will give you the best impression of what FDR was about.)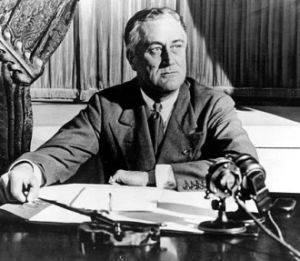 These chats were brilliant propaganda and had three key aspects:
- Homeliness – the chats were delivered "like a father discussing public affairs with his family in the living room" (people could hear the fire in the background). FDR told people that he went fishing to think over big reforms, so he would not get out of touch with ordinary people's thinking.
- Reasonableness – FDR said that he was not going to make false promises, and that he would not succeed every time
("I do not deny that we may make mistakes. I have no expectation of making a hit every time I come to bat").
- Blame – he spoke of 'the 10%' who wanted the New Deal to fail. ("They may be divided roughly into two groups: First, those who seek special political privilege and, second, those who seek special financial privilege.").
Ordinary people believed that he was fighting the rich and selfish in their behalf – as a result, even though the gains of the first New Deal were not great, FDR won the 1936 election by another landslide
Source A
I can assure you that it is safer to keep your money in a reopened bank than under the mattress.
1st Fireside Chat, (March 1933)
Source B
Dear Mr. President: This is just to tell you that everything is all right now. The man you sent found our house all right, and we went down to the bank with him and the mortgage can go on for a while longer. You remember I wrote you about losing the furniture too. Well, your man got it back for us. I never heard of a President like you.
Letter to the President from an old man and his wife, (summer, 1933)