These are the 'facts' of the Depression as you will see them presented in most textbooks.
(Some Farmers Were Handling Hardship Very Badly)
1. Statistics:
● In 1931, 238 people were admitted to hospital suffering from starvation.
● International trade slumped from $10bn in 1929 to only $3 bn in 1932.
● 5000 banks went bankrupt 1929-1932, including the Bank of America.
● In 1932 a quarter of a million Americans had their homes repossessed, and a fifth of all farmers lost their farms.
● In 1932, 20,000 companies went out of business.
● By 1933:
- Industrial production had fallen by 40%
- Prices had fallen 50%
- Wages had fallen by 60%
- Share prices had fallen by 80%
- 5000 more banks went bankrupt.
- 25% of Americans were unemployed.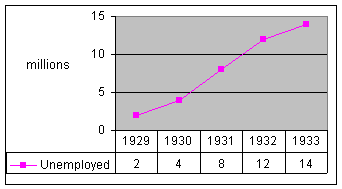 2. Farmers:
● The depression was particularly fierce in agriculture, and things were made worse by the 'dust bowl' caused by over-farming.
● Many farmers could not afford their mortgage repayments and many 'Okies' (from Oklahoma) and 'Arkies' (from Arkansas) had to abandon their farms and go fruit-picking in California (the famous novel The Grapes of Wrath is about this).
3. Welfare and Despair:
● America and no Welfare State. Many unemployed Americans were reduced to picking over rubbish dumps or begging (cf the song 'Buddy, can you spare a dime').
● SOME towns set up soup kitchens and groups like the Salvation Army (and even Al Capone) organised charity hand-outs – hence the term 'on the breadline'.
● In the land of opportunity this was seen as a terrible failure, and 23,000 people committed suicide in 1932 alone.
4. Hobos and Hoovervilles:
● Homeless people went to live in shanty towns called 'Hoovervilles' (as an insult to President Hoover). 'Hobos' travelled round looking for jobs, usually riding illegally on freight trucks.
5. Hatred of Hoover:
● The government did not know how to stop the Depression, and Hoover believed in 'rugged individualism', and stuck to the idea that it was not the government's job to interfere with business.
● In 1930 the Smoot-Hawley Act raised tariffs, in 1931 the Fed raised interest rates, and in 1932 the government raised taxes - all three simply made the Depression much worse.
● Most Americans came to blame the President for the Depression. Shanty towns were called 'Hoovervilles', but there was also 'Hoover leather' (cardboard soles for shoes) and 'Hoover blankets' (newspapers). 'In Hoover we trusted, but now we are busted'.
6. Violence:
● There were many protest marches and riots. When banks tried to re-possess some farms, local farmer banded together and drove them off with pitch-forks.
7. Bonus Army:
● In 1932, 20,000 unemployed ex-soldiers set up a Hooverville in Washington to ask for their war pension ('bonus') to be paid early; Hoover set the army on them, who drive them away with guns and tear-gas.