Source B
A View of Haig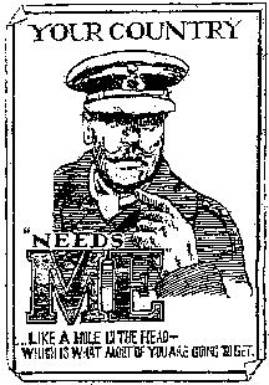 This poster shows a caricature of Haig, with the words: 'Your Country Needs Me… like a hole in the head – which is what most of you are going to get'. It is taken from the book General Haig's Private War.
Source C
Haig's own views on the Somme and trench warfare
i) The nation must be taught to bear losses. No amount of skill on the part of the higher commanders, no training, however good, on the part of the officers and men, no superiority of arms and ammunition, however great, will enable victories to be won without the sacrifice of men's lives. The nation must be prepared to see heavy casualty lists.
Written by Haig in June 1916, before the Battle of the Somme.
Question: would we stand for this sort of statement today from a commander who had lost 56,000 men in a single day – compare it to our approach to modern campaigns like the Gulf War and Afghanistan.
ii) The men are in splendid spirits. Several have said that they have never before been so instructed and informed of the nature of the operation before them. The barbed wire has never been so well cut nor the artillery preparation so thorough. All the commanders are full of confidence.
Written by Haig on 30th June, 1916, the day before the attack began.
Question: how does this compare to the memories of men who were there? Why might Haig have got the impression that all the men were confident and felt well-prepared?
iii) Very successful attack this morning… All went like clockwork… The battle is going very well for us and already the Germans are surrendering freely. The enemy is so short of men that he is collecting them from all parts of the line. Our troops are in wonderful spirits and confidence.
Written by Haig on 1st July 1916, the first day of the Battle of the Somme.
Question: how does this compare to your knowledge of how the battle went? How do you explain this statement from Haig?
Source D
Field Marshall Haig as a military commander
Silent, humourless and reserved, Haig was also shrewd and ambitious and had great self-confidence. Perhaps his greatest failing was his constant, often misplaced, optimism, which seemed to stem from his belief that he had been chosen by God to serve his country. It was probably this inability to recognise defeat that led to his continuing attacks on the Somme and Passchendaele.
Written by the modern historian, Anthony Livesey, Great Battles of World War I (1989).
Note: this is a dreadful piece of writing – notice how the writer drives on through a series of questionable 'seems' and 'possiblys' to his utterly questionable conclusion.
Source E
The Prime Minister's view of what happened on the Western Front
The tale of these battles… is the story of the million who would rather die than call themselves cowards – even to themselves – and also of the two or three individuals who would rather the million perish than they as leaders should admit – even to themselves – that they were blunderers. Ought I to have vetoed it? Ought I not to have resigned than allow this slaughter of brave men? I have always felt there are solid grounds for criticism in that respect. My only justification is that Haig promised not to press the attack if it became clear that he could not attain his objectives by continuing the offensive.
Lloyd George, War Memoirs (published after the War)
Livesey (Source D) claimed that it was Haig's 'misplaced optimism' and 'inability to recognise defeat' that kept him going; what does Lloyd George suggest kept Haig attacking? The Battle lasted 4 months; Lloyd George could have dismissed Haig; what do you think of the excuse he gives for not doing so?
Source F
Was Haig right to press on with the Battle of the Somme?
As to whether it were wise or foolish to give battle on the Somme, there can surely be only one opinion. To have refused to fight then and there would have meant the abandonment of Verdun to its fate and the breakdown of co-operation with the French.
From the biography of Haig, officially authorised by Haig's family, by Duff Cooper, Haig (1936)
Question: do you agree that Haig had no alternative but to fight on the Somme? And if he HAD to fight, did he HAVE to sacrifice so many men?
Source G
A modern assessment of Haig – was he totally at fault?
Blaming Haig the individual for the failings of the British war effort is putting too much of a burden of guilt on one man. Haig was the product of his time, of his upbringing, education, training and previous, military experience. One argument goes that he was, ultimately, victorious and, even if he had been replaced, would there have been anyone better for the job? Even on the Somme a German officer called the battlefield 'the muddy grave of the German army'. This was the same battle in which Haig's numerous mistakes contributed to the half a million casualties suffered by the Allies.
From an article in the magazine Hindsight, by S Warburton (April 1998)
Question: Warburton argues that Haig's actions were simply 'a product of his education and experience', and that he won in the end – does that make the millions of casualties alright, then?
Source H
A modern satire on the war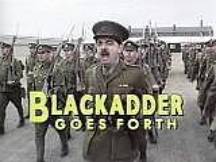 The comedy series Blackadder Goes Forth continually portrayed Haig as a fool and a murderer. In this scene, Blackadder tried to persuade Haig to get him out of the Big Push, while Haig (played by Geoffrey Palmer) plays war games with toy soldiers:
Blackadder: (winds the telephone) Hello? Field Marshal Sir Douglas Haig, please.
(Haig picks up and is looking over a model of the battlefield.)
Blackadder: Hello, Sir Douglas.
Haig: Good lord! Blacky! (knocks down an entire line of model soldiers)
Blackadder: Yes, sir.
Haig: I haven't seen you since... (knocks down the second line of model soldiers on the same side)
Blackadder: '92, sir -- Mboto Gorge. And do you remember...?
Haig: My god, yes. You saved my damn life that day, Blacky.
Blackadder: Well, exactly, sir. And do you remember then that you said that if I was ever in real trouble and I really needed a favour that I was to call you and you'd do everything you could to help me?
Haig: (sweeps the fallen soldier models into a dustpan) Yes, yes, I do, and I stick by it. You know me -- not a man to change my mind.
Blackadder: No -- we've noticed that.
Haig: So what do you want? Spit it out, man. (hurls the dead platoon over his shoulder)
Blackadder: Well, you see, sir, it's the Big Push today, and I'm not all that keen to go over the top.
Black-Adder- Series 4, Episode 6
Question: this is utter fiction. Blackadder never existed, Mboto Gorge never happened. In real life Haig would have court-martialled Blackadder for even making the call. So can this scene be of ANY use to an historian?