Events
14 Oct: U2 spy-plane takes pictures of Missile bases in Cuba - experts tell Kennedy he has 10 days before they are operational.

16 Oct: Kennedy set up a Committee of the National Security Council to advise him.

22 Oct: Kennedy announced that he was mounting a naval blockade of Cuba.

B52 nuclear bombers were deployed, so that one-eighth of them were airborne all the time. That night, Oleg Penkovsky – a Western spy working in Russia – was arrested. His last message read; 'Soviet attack imminent'.

23 Oct: Khrushchev explained that the missile sites were 'solely to defend Cuba against the attack of an aggressor'. 20 Russian ships were heading for Cuba.

24 Oct:

Khrushchev accused America of piracy. He warned that Russia would get ready 'a fitting reply to the aggressor'.

25 Oct: The first Russian ship reached the naval blockade. It was an oil ship and was allowed through. All the other Russian ships (carrying missiles) turned back. Secretly, the US government offered to remove US missiles in Turkey in exchange for those in Cuba.

26 Oct:

Russia was still building the missile bases, and Kennedy started planning a military attack on Cuba - until, at 6pm, Khrushchev sent a telegram to Kennedy, offering to dismantle the sites if Kennedy would lift the blockade and agree not to invade Cuba - the Americans comment: 'the other fellow just blinked'. The Kennedy brothers saw the Russian ambassador, and again mentioned removing the missiles in Turkey.

27 Oct: Before Kennedy could reply, Khrushchev sent another letter, demanding that Kennedy also dismantle American missile bases in Turkey. On the same day, a U2 plane was shot down over Cuba.

It looked as if war was about to happen.

Kennedy ignored the plane incident. He also ignored Khrushchev's second letter – he wrote simply that would lift the blockade and agree not to invade Cuba if Khrushchev would dismantle the missile bases.

He also offered secretly to dismantle the Turkish missile bases.

28 Oct: Khrushchev agreed. The crisis finished.

20 Nov: Russian bombers left Cuba, and Kennedy lifted the naval blockade.

Listen to Kennedy and his advisers discussing how to react (audio/transcript) !!!
They decided that their options were:
1. Nuclear Strike? It would cause a nuclear war.
2. Conventional attack? There were Russian troops in Cuba, and it would probably lead to a war with Russia.
3. Use the UN? Too slow.
4. Do nothing? The missile bases were too dangerous.
5. Blockade? This would stop the missiles getting to the missile bases, but it was not a direct act of war.
Source B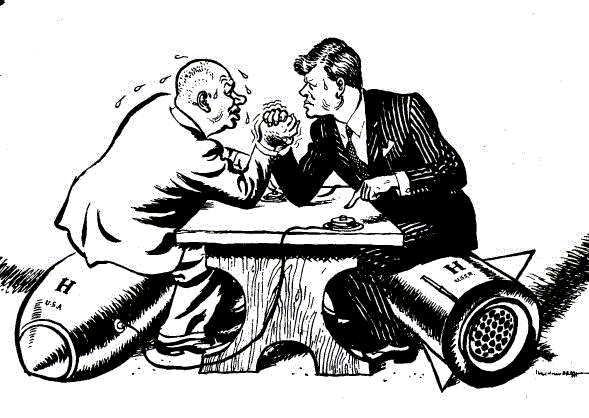 This British cartoon of 29 October 1962 shows Kennedy and Khrushchev arm-wrestling for power, sitting on nuclear weapons. The caption read: 'OK Mr president, let's talk'