If the rulers of the West hoped that Khrushchev would bring an end to the Cold War, they were disappointed:
'De-stalinisation' did not mean a change back to capitalism, or freedom from Russia. When communist countries went too far in their reforms, Khrushchev sent in the Red Army to stop them.
By 'peaceful co-existence', Khrushchev really meant 'peaceful competition'. He started to build up Russian power:
Faced by this, America became just as aggressive:
As a result, the period 1955–1963 was the time of GREATEST tension in the Cold War.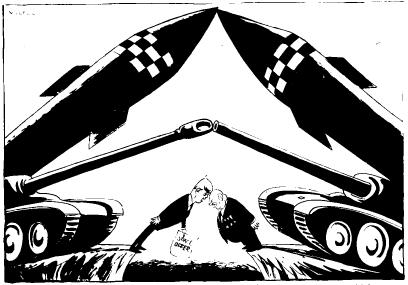 Source E
This 1961 cartoon shows America and Russia at loggerheads with each other. Most people expected that a nuclear war would happen - the atom bomb affected modern life and culture

. American children were trained what to do in the event of a nuclear strike - 'Duck and Cover'.
Source F
... In fact, however, the 'thaw' was only partial: Khrushchev's policy was a curious mixture which western leaders often found difficult to understand [and] he was quick to respond to anything which seemed to be a threat to the east.
Norman Lowe, Mastering Modern World History (1982)
Written as a GCSE revision book by a History teacher.
Crises after 1955:
1956 Poland
1956 Hungary
1960 U2 crisis
1961 The Berlin Wall
1962 Cuban Missile Crisis
EIGHT Countries in the Warsaw Pact:
• USSR
• Albania
• Bulgaria
• Czechoslovakia
• East Germany
• Hungary
• Poland
• Romania.
In the 1950s and 60s many US films showed fear of Communism.

The most famous was Red Nightmare (1949), a film about Communists taking over America.
The film Them! (1954) was an allegory of the cold war, teaching Americans to hate 'the enemy'.

Get Smart was a hilarious spoof TV which imagined an outside force trying to reduce society to KAOS.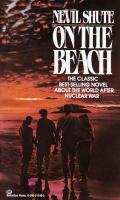 Neville Shute's On the Beach (1957) imagined a group of people waiting to die after the nuclear holocaust.