Introduction
This true story is taken from the 1972 book, Policy and Police, by the renowned historian G.R.Elton: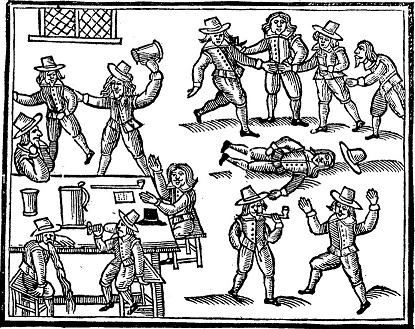 A man called John Smith and two women went into a tavern (a pub) near St Bride's Church in London. They were waiting to be served when a crowd of people came in, led by William Kyng, an apprentice. Kyng called for some wine, and he and his friends were served.
At this, Smith rose out of his seat, and went over to William Kyng, saying, 'Thou whoreson, why takest thou my wine?' When Kyng protested that it was his own wine, Smith 'out of cruel evil took the said pot of wine and hit the aforesaid William on the head'. He also took his dagger out. The other customers stopped the fight, and sent Kyng and his friends away.
Kyng went to another tavern, called The Standard, with two friends. One of them saw a man and shouted, 'Yonder goes he that hit thee in the tavern.' In fact, he had made a mistake. It was not John Smith. It was a law student called Oystreche, from Clifford's Inn (one of the law schools near London).
Kyng and his friends stopped Oystreche, who seemed confused. 'I know thee not, nor yet did I hit thee,' he said. Kyng hit Oystreche, who ran to a nearby house. The people who lived there stopped the fight. Kyng realised he had attacked the wrong man. He said he was sorry.
Sorry, however, was not good enough for Oystreche. He went back to Clifford's Inn and collected a crowd of his friends. They went down into London to complain to Kyng's master. Kyng's master said he was sorry and that he would deal with the matter, and everyone went home.
Everyone, that is, except two young law students. They took some weapons and hid in 'an alley going down to the river by Fleet Bridge'. They planned to ambush William Kyng. Instead, in another case of mistaken identity, they attacked one John Penyngton – a bow-and-arrow maker – who was innocently making his way home. Penyngton screamed for help. The attackers were arrested and taken to the constable.
When the students at Clifford's Inn heard what had happened, they put on their 'armour with axes and long and short swords'. Then they swarmed back into London to rescue their friends. The men of St Bride's formed a gang and drove them back after a fierce battle.
The constable was too scared to arrest anyone, and the matter was forgotten.
After you have studied this webpage, answer the question sheet by clicking on the 'Time to Work' icon at the top of the page.