1 Henry VIII
This text comes from my textbook for Hodder and Stoughton (2000), written for less-able readers. It summarises the reign in a few lines.
Henry VIII Henry became king in 1509. He wanted to be a great and memorable king.
He built 50 warships – in 1512 the biggest warship, called the Great Harry, was built. In 1513, the English army crushed the Scots army at Flodden. Also in 1513, Henry went to fight in France, but he could not defeat the French army.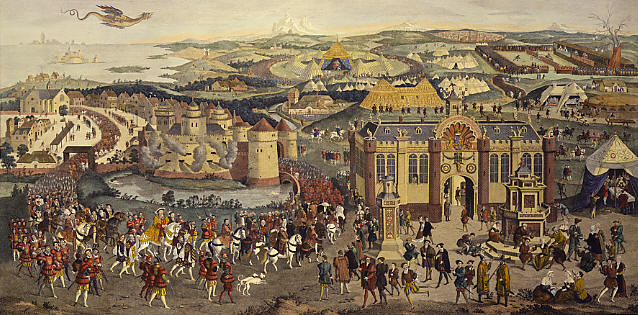 In 1520, Henry met the King of France. Henry wanted to look good.
He took 4,000 people with him. They ate from plates of gold! The meeting place was called 'The Field of the Cloth of Gold'.
In 1533, Henry said that HE was the Head of the Church in England. And in 1536, he used his new power to close the monasteries down, and took their land and money.
But Henry 'dipped his hand in blood'. In 1536, he hanged hundreds of people who protested about the monasteries. In 1536, his second wife, Anne Boleyn, had her head chopped off because she could not have a son, and in 1542 he executed his fifth wife, Catherine Howard, when she slept with other men.
Henry VIII became the richest king in the world and he made England very powerful. In 1536 Wales became part of England. And in 1541 Henry made himself King of Ireland.
People did as the king said – because they were afraid of him, or because they loved him. In 1537, Jane Seymour, Henry's third wife, gave him a son. And when Henry died in 1547, NO ONE rebelled when the new king Edward VI came to the throne, even though he was only a nine-year-old boy.
'A wonderful man,' wrote the French ambassador.